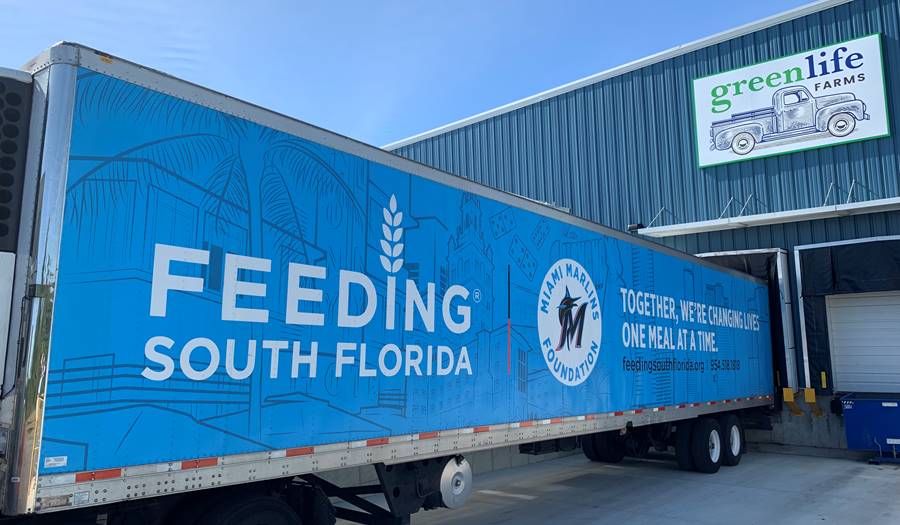 Green Life Farms Supports Feeding South Florida
4/2/2020
Lake Worth, FL (April 2, 2020) –Green Life Farms, an innovative commercial-scale hydroponic grower in Lake Worth, contributed over 3,000 pounds of premium baby leafy greens to Feeding South Florida throughout the month of March as food insecurity increased across Florida because of the novel Coronavirus pandemic. 
"While growing our retail and food service partnerships, Green Life Farms is pleased to support the important work of Feeding South Florida year-round. Providing our baby leafy greens to such a deserving organization is a small way we can help our neighbors in need especially during uncertain times such as these. Our partnership embodies a strong commitment to food waste reduction by providing food to our local communities fighting hunger," said Elayne Dudley, Green Life Farms Sales Director. 
Green Life Farms periodically donates a variety of hydroponic baby greens which can include Baby Spinach, Baby Arugula, Baby Kale, Baby Romaine, Red Romaine Mix, Southern Style Greens and Gourmet Asian Blend.  Feeding South Florida distributes them to its network of food banks serving Palm Beach, Broward, Miami-Dade, and Monroe Counties.
During the novel Coronavirus outbreak, Feeding South Florida has experienced a 650% increase in need for its services.  "Feeding South Florida is grateful for donations of fresh and healthy food that will help nourish families through this difficult time," said Michele Fernandez, Feeding South Florida Community Engagement Coordinator. 
About Green Life Farms     
Green Life Farms operates a 100,000 square foot state-of-the-art hydroponic greenhouse in Lake Worth Florida, with additional expansion planned in Florida and beyond. By incorporating agriculture with technology, Green Life Farms will provide consumers with premium-quality, fresh, local, flavorful and clean baby leafy greens that are good for their bodies, families, communities and planet – year-round. For more information about Green Life Farms, visit GreenLifeFarms.ag.
About Feeding South Florida®
Feeding South Florida is a member of the Feeding America network of food banks and the leading domestic hunger-relief organization serving Palm Beach, Broward, Miami-Dade, and Monroe Counties. Providing support for 25 percent of the state's food insecure population, its mission is to end hunger in South Florida by providing immediate access to nutritious food, leading hunger and poverty advocacy efforts, and transforming lives through innovative programming and education. Feeding South Florida distributed nearly 62 million pounds (51.6 million meals) of food last year, to over 700,000 individuals through direct-service programs and a local network of approximately 300 nonprofit partner agencies. Visit www.feedingsouthflorida.org or call 954.518.1818.