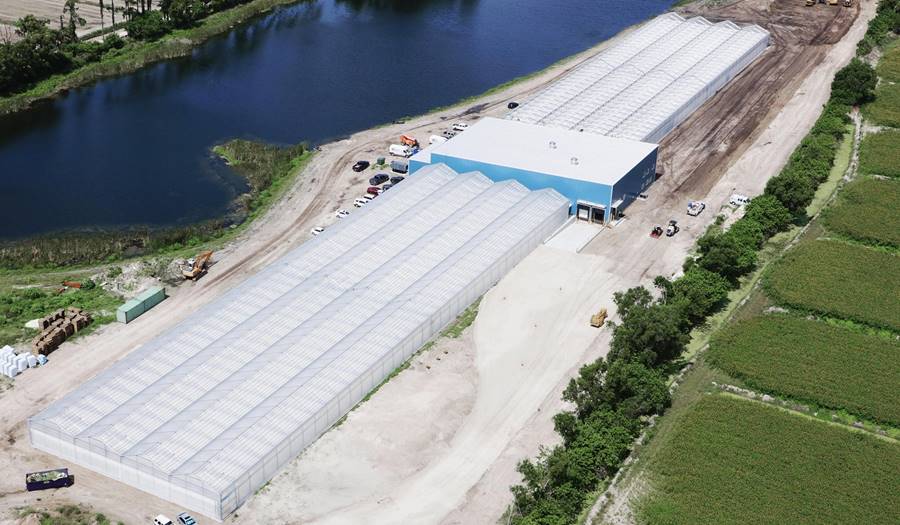 Green Life Farms Harvests First Crop in State-of-the-Art Hydroponic Greenhouse
7/18/2019
Lake Worth, FL (July 18, 2019) – Green Life Farms has harvested its first crop of baby leafy greens at its flagship hydroponic greenhouse in Lake Worth, an important milestone as the company prepares to begin selling to supermarkets, restaurants, cruise ships and other distributors. The facility has recently achieved Substantial Completion, and the team is now harvesting its first crops, which include Baby Arugula, Baby Romaine, and Baby Spinach. Green Life Farms expects to begin growing produce for customers later this year.
"Planting and harvesting our first crop puts us one step closer to delivering produce that is grown locally using sustainable farming practices and free from pesticides and contaminants," said Mike Ferree, Vice President, Green Life Farms. "We have no doubt customers will be thrilled with the care and dedication we've put into the growing process once they smell, touch and taste the baby leafy greens."
The hydroponic greenhouse, slated to be one of the largest indoor hydroponic produce growers in the southeast, occupies nearly three acres and will yield approximately 700,000 pounds of premium leafy green produce throughout the year. The greens will be grown, harvested and packaged onsite; they will then be picked up or shipped directly from the farm. Unlike with conventional farming practices, Green Life Farms' baby leafy greens are grown without soil, then harvested hands-free, reducing the risk of contamination and preserving flavor and freshness.
Green Life Farms plans to offer a large selection of products to its customers later this summer, including Baby Spinach, Baby Arugula, Baby Kale, Baby Romaine, Red Romaine Mix, and specialty blends Southern Style Greens and Gourmet Asian Blend. All Green Life Farms products are free from harmful pesticides and GMOs and grown using sunlight and oxygenated water.
Construction of the Green Life Farms' flagship facility began in 2018. In preparation for commercial operations, Green Life Farms hired its sales director and head grower earlier this year. The organization is currently hiring a Production Area Supervisor and Growing Area Supervisor; once those roles are filled, Green life Farms will look to fill out the roster of greenhouse and production staff, totaling 14 additional people in the state-of-the-art facility. 
Green Life Farms' hydroponic greenhouse features innovative Deep-Water Floating Raft Technology (FRT) from Hydronov, an industry leader in the hydroponic space with more than 30 years of experience. FRT helps to conserve water, using the oxygenated clean water in which the plants grow as a conveyer system, eliminating the costs and maintenance associated with mechanical conveyers. Green Life Farms will be able to produce 18 harvests each year and use 90 percent less water than conventional farming.
Green Life Farms produce will set new standards for cleanliness, freshness, and taste. Grown locally, using sustainable farming practices combined with the most advanced AgTech practices, and kept free from harmful pesticides and contaminants, Green Life Farms baby leafy greens are good for the body, family, community, and planet.