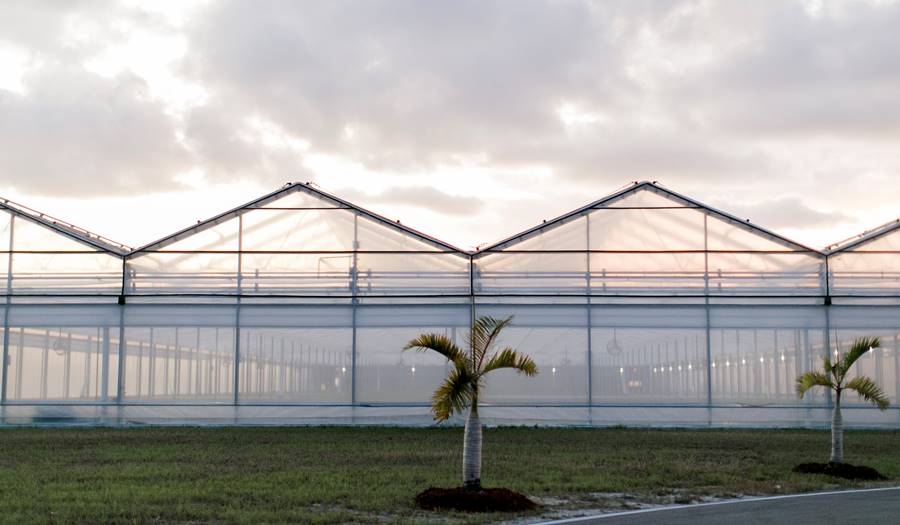 Green Life Farms Celebrates Grand Opening of Flagship Hydroponic Greenhouse in Lake Worth
11/7/2019
Lake Worth, FL (November 7, 2019) – Joined by supporters, investors and community members, Green Life Farms celebrated the grand opening of its state-of-the-art hydroponic greenhouse in Lake Worth, FL today. Green Life Farms cultivates, harvests and packages its produce in an enclosed environment to create the freshest, cleanest greens with no GMOs, harmful pesticides or unhealthy contaminants, which is of paramount concern with increasing reports of food-borne illnesses from fresh produce. With no artificial lighting used in its controlled environment, Green Life Farms leverages the abundant sunshine of southern Florida, onsite well water, geothermal technology and other renewable energy sources in its indoor growing space to achieve the lowest carbon footprint possible. The farm will sell to supermarkets, restaurants, cruise ships and other distributors across the Florida region, which consumes approximately 250 million pounds of leafy greens annually.
The Green Life hydroponic greenhouse is the largest indoor hydroponic produce grower in the southeast, occupies nearly three acres and will grow approximately 700,000 pounds of premium leafy green produce throughout the year. Unlike with conventional farming practices, Green Life baby leafy greens are grown in oxygenated well water – without soil – then harvested hands-free, reducing the risk of unhealthy contamination and preserving flavor and freshness. Its produce will reach store shelves within days of harvest, instead of the 8 to 10 days it may take conventionally-farmed produce from the West Coast to reach customers in the region.
"This is a momentous occasion for Green Life Farms, and we're thrilled to have made all this a reality," said Mike Ferree, Vice President, Green Life Farms. "Customers look for local, familiar names when choosing their produce. We're proud that Green Life Farms is meeting that demand with locally-grown produce that is not only healthier for you and your family but is also being grown in the "greenest," lowest-carbon-footprint process possible. No one else comes close to our high standards of freshness, cleanliness and taste. Once customers try our product, we are confident they'll keep coming back."
Green Life Farms' hydroponic greenhouse features innovative Deep-Water Floating Raft Technology (FRT) from Hydronov, an industry leader in the hydroponic space with more than 30 years of experience. FRT helps to conserve water, using the oxygenated clean well water in which the plants grow as a conveyer system, eliminating the costs and maintenance associated with mechanical conveyers. Green Life Farms will be able to produce 18 harvests each year and use 90 percent less water than conventional farming.
Green Life Farms offers a large selection of products, including Baby Spinach, Baby Arugula, Baby Kale, Baby Romaine, Red Romaine Mix, and specialty blends, Southern Style Greens and Gourmet Asian Blend.